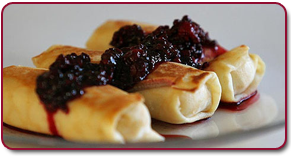 Papa's Home-Style Blintzes

are an instant winner for your service deli, food service department, lunch counter, gourmet market, bakery, fundraiser, organization or warehouse club.

An outrageously delicious dish made of a thin golden crepe, filled and rolled with a variety of special fruit fillings. Papa's home-style Blintzes are made with only the finest, all-natural ingredients and no preservatives. Our hand-made traditional deli size 3 oz. blintz will satisfy any palate.

Give our favorite a try Papa's mouth-watering traditional cheese blintz, made with only the finest ingredients including pure cream cheese, cottage cheese, ricotta cheese, farmers cheese, and bakers cheese. Or, venture out and try one of our specialty flavors today.



Varieties:

Traditional Cheese, Blueberry Cheese, and Cherry Cheese



Size:

Home-style deli size blintz weigh approximately 3.2 oz.



Pack Size / Net Weight:

48 pieces per case and weigh approximately 11 lbs. per case gross weight.



Pallet Size:

100 cases



Case Dimensions:

15" x 19" x 3"



Baking Instructions:

Blintzes can be pan fried or baked. Serve alone or top with apple sauce, sour cream, fruit sauce, whipped cream or powdered sugar. Detailed baking instructions, shelf life and nutritional information are available upon request.



Packaging:

Special retail packaging and private labeling is available upon request.



Pricing and Account Information:

Please call 301-340-2800 or fill out our contact page to establish an account.