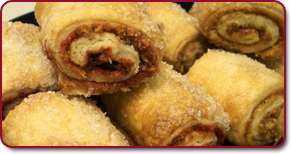 Papa's New York's Famous Rugelach is an instant winner for your service deli, food service department, lunch counter, gourmet market, bakery, fundraiser, organization or warehouse club.

Our great tasting rugelach is the classic treat north to south and east to west. Delicious is the word. The taste, texture, and appearance of Papa's New York's Famous Rugelach makes them a sure success for your organization. We use only the finest all-natural ingredients - pure creamy butter, the finest chocolate, fresh ground cinnamon, pure cream cheese, plump raisins and many other fine and natural ingredients.

Get your tastebuds ready. Try one of our many outrageously delicious, flavorful Rugelach varieties today.



Varieties:




Raspberry:

Bursting with the delicious flavor of raspberry swirled into every nook and cranny, this special pastry is Papa's favorite. Each bite brings back the memory of summer's warmth and taste of freshly picked berries.


Chocolate:

Inside and out, this confection is of unparalleled taste. A secret blend of milk and dark chocolate, melted throughout the pastry and topped with a chocolate drizzle for just the right touch. This is truly a chocolate lover's dream.


Apricot:

A special blend combining Papa's original recipe with the sweet nectar of apricots – a true delicacy that tastes even better than it looks.


Honey Pecan:

Plump California pecans, honey and raisins delicately encased in a light flaky pastry. Sure to delight the tastebuds.


Cinnamon Raisin:

Papa's original recipe and a classic treat for all special occasions. A crunchy treat with plump raisins and just the right amount of cinnamon to please every palate.



Pack Sizes / Net Weight:

approximately 15 pieces per lb.


Baked Traditional Square Cut:

10 lbs. net per case


Unbaked Traditional Square Cut:

12 lbs. net per case



Pallet Sizes:




Baked and Unbaked Traditional Square Cut:

100 cases



Case Dimensions:




Baked and Unbaked Traditional Square Cut:

15" x 19" x 3"


Baking Instructions:

Detailed baking instructions, shelf life and nutritional information are available upon request.



Packaging:

Special retail packaging and private labeling is available under baking instructions.



Pricing and Account Information:

Please call 301-340-2800 or fill out our contact page to establish an account.